Wallets. From your grandma to your little sister, everybody seems to have one. The wallet is an essential tool to keep our ID and credit cards organized, our cash in order, and to generally keep our handbags tidy and clutter-free. But that all sounds so… functional. And honestly, kind of boring, doesn't it?
Well not any more!
Luckily, wallets have evolved. They're no longer the worn leather things our dads kept in their back pockets out of necessity. Today, wallets offer us a chance to express ourselves. They offer a glimpse into your unique style and personality. They tell people just a little bit about who you might be, and what you might enjoy. Whether your style trends toward bold, classic, or cheerful, our wallets for sale have something just for you!
Bold
Sometimes, we all need a little bit of flair. In our days, in our lives, and even in our wallets. To make a bold statement with a piece as small as a wallet, go for vibrant colors and loud and proud patterns.
When it comes to colors, it doesn't get much bolder than red. Our Pebble Grain Folded Zip Wristlet in red offers enough storage and individual compartments to hold its own as a solo piece, but is also compact enough to pair with a favorite bag. In any event, its vibrant red color and sleek design is sure to draw attention.
It doesn't always take bright colors to make a bold statement. This is definitely the case with our white Gretta Folded Zip Wristlet. The white coated-cotton base is complemented by the signature Dooney and Bourke logo pattern in black, making this one an eye-catcher in any setting. Its compact design and removable wrist strap make it easy to stash in another bag, but we say display this bold baby loud and proud.
Bold statements don't have to come in big packages. Sometimes, all it takes is a compact wallet in a beautiful, fresh color. Our Saffiano Small Flap Credit Card Wallet in light mauve packs a big punch for such a small piece. Whip this out of your handbag, and you're sure to inspire jealousy all around you.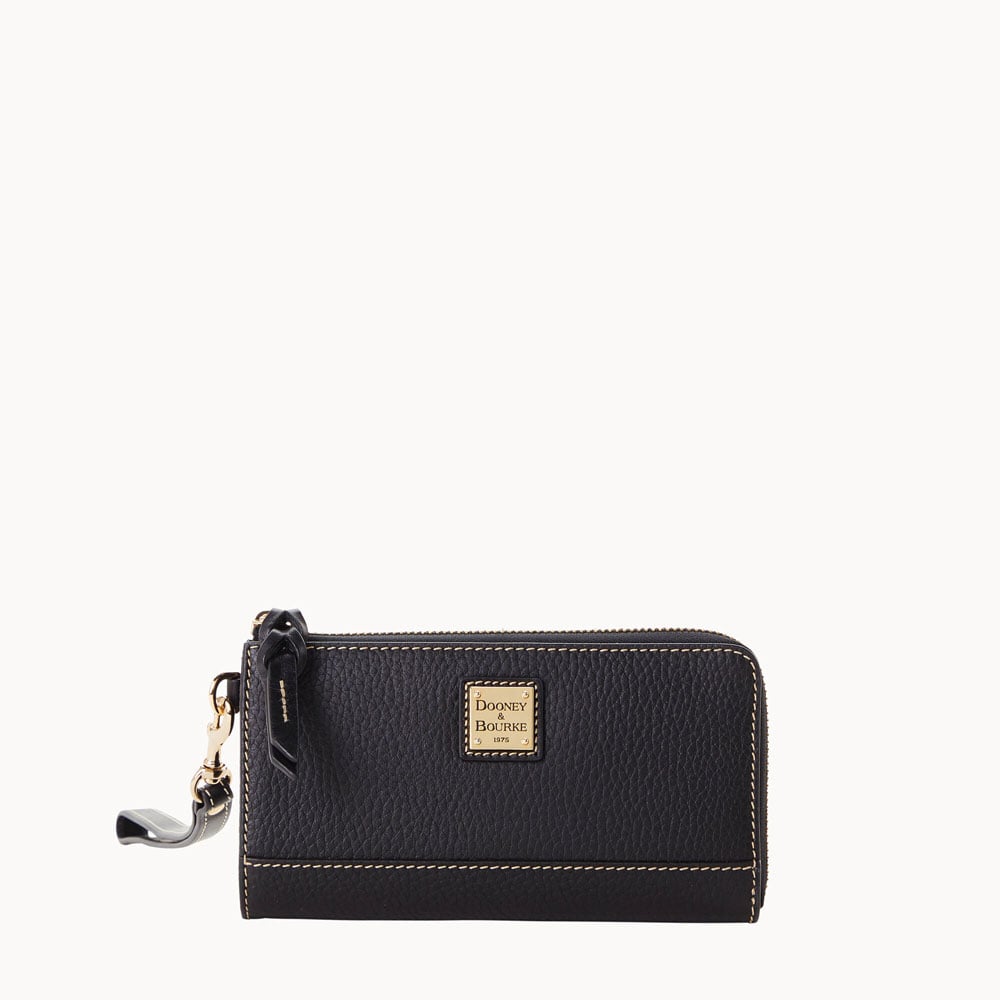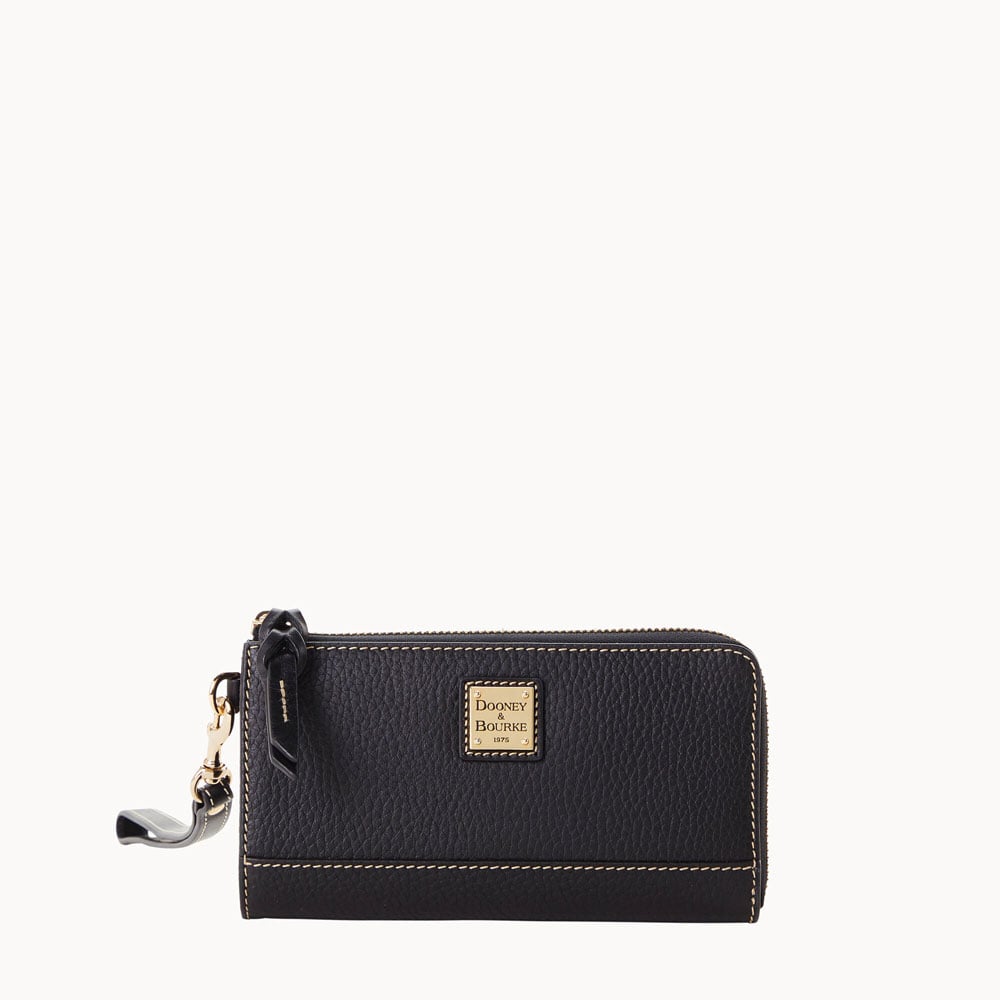 Classic
The bold lifestyle isn't for everyone, and that's okay. For some, it's a life of luxury: elegant dinners, drinks by the beach, and sophisticated goings-on of all types. This style requires subtlety. It requires calm, muted colors, sleek designs, and classic details.
What do you get when you take a relaxed everyday leather and pair it with a classic, functional design equipped to carry everything a busy woman needs for the day? Our Pebble Grain Large Zip Around Wristlet. Both elegant and calming, this classic design has a little fun tucked away inside, too: a red interior pocket.
Nothing says 'classy' like a tastefully monogrammed design set against a rich background. Our Monogram Continental Clutch in Brown Tmoro exudes luxury and elegance without being overstated. With a nod to classic designs of days past, this functional wallet has a spot for everything you need to enjoy an iconic day.
What is it that makes ostrich so elegant? We're not sure, but we're a little obsessed. Our Ostrich Continental Clutch in Bone perfectly combines a soft, relaxing color with decadent ostrich texture, and the classic design makes this a must-have for every closet.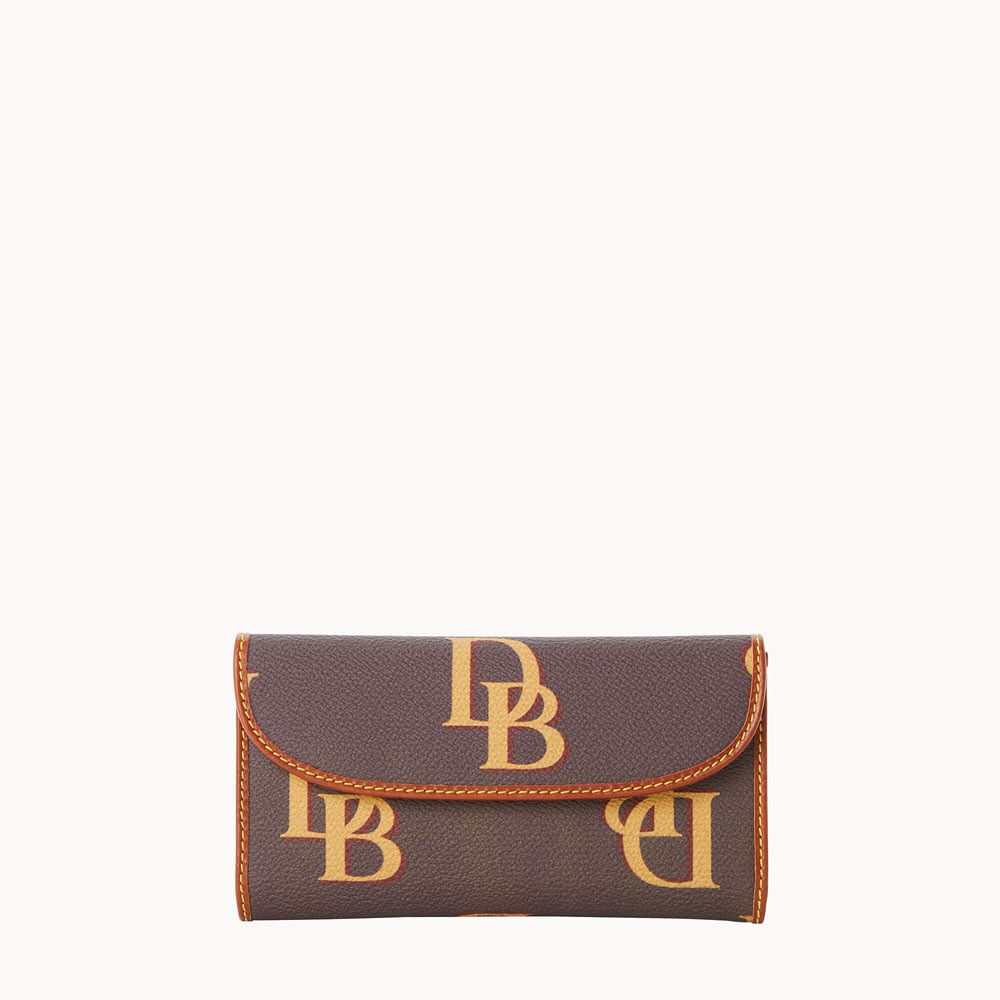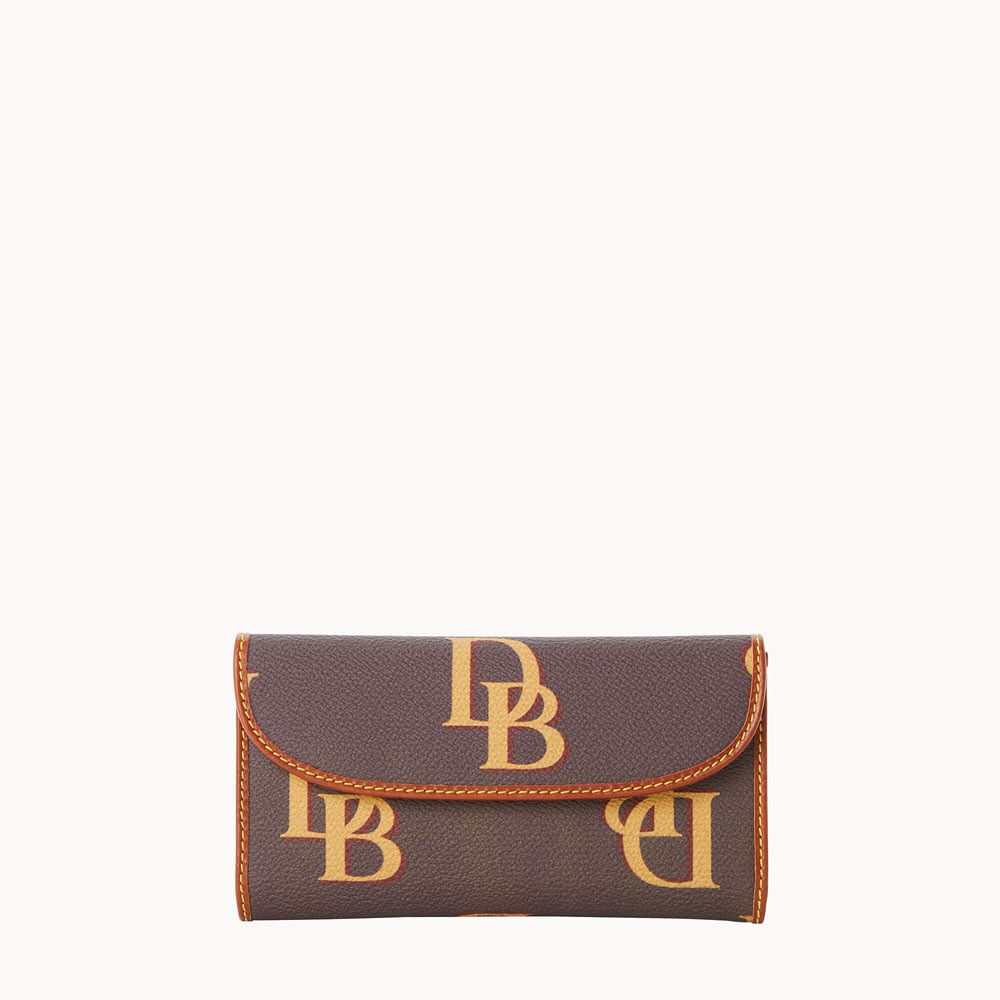 Cheerful
Sometimes, you just want to have fun! To express your playful side, seek out wallets that feature bright, playful colors, whimsical designs, and unexpected shapes.
There's no more cheerful color than Sky Blue, especially as spring continues to bloom all around us. It's impossible to look at our Sky Blue Saffiano Folded Zip Wristlet and not feel cheerful. The vibrant blue coupled with sleek coated Italian leather and playful design is the perfect way to chase away the clouds and celebrate the sunshine!
Blue is always such a cheery color, and our Pebble Grain Continental Clutch in glacier blue is no different! It inspires a sense of happiness and fun in any setting. The brown leather trim and signature Dooney duck absolutely radiate whimsy, joy, and cheer.
Bold? Check. Classic? Check. Cheerful? Check. Our collection of wallets, clutches, and wristlets offer the perfect option no matter your style and are sure to add just the right kind of flair to your day. So, what are you waiting for? Check out the collection today!